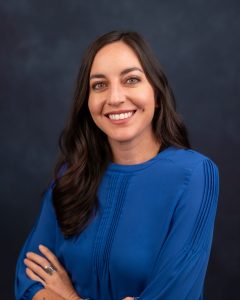 Malina Ruiz, APRN, FNP
Enfermera practicante avanzada
Family Medicine | Language(s) Spoken: English, Spanish
Background
Certifications:
– FNP: Family Nurse Practitioner Certified by the American Academy of Nurse Practitioners
Graduate Education:
– Master of Science in Nursing
Undergraduate Education:
– Bachelor of Science in Biology and Music
Biography
Malina has worked in health care since 2005, starting as a certified nursing assistant and working her way to an advanced nurse practitioner in cardiology. Every lived experience she has had in this field of work has molded her into who she is now, an empathetic and understanding provider.
What she has come to find over the years in the medical field is the reward of taking care of individuals who come from an underserved population, especially Spanish-speaking patients. She hopes to continue to grow as a provider within this community that she truly cares for while helping prevent illness and maintain healthy and happy individuals.
Personal Interests 
She enjoys anything and everything outside during all seasons. She also enjoys yoga, reading in her hammock, listening to music, salsa dancing, and when she gets a chance, playing her flute.
Locations
No matter what your healthcare needs may be, our kind, compassionate staff is standing by with a wide range of quality care options.