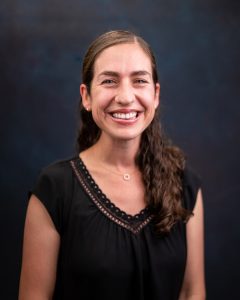 Maria Fernandez, MD, MPH
Director(a) medico(a)/Médico(a)
Family Medicine | Language(s) Spoken: English, Spanish
Background
Certifications:
– Board certified through American Board of Family Medicine
Medical School:
– University of Arizona
Graduate Medical Education:
– University of Nevada, Reno
Graduate Education:
– University of California, Berkeley
Undergraduate Education:
– Stanford University
Biography
Dr. Fernandez was born in Tampico, Mexico and moved to San Diego, CA when she was three. Her bicultural and bilingual upbringing had a major impact on both her personal and professional life. She pursued an undergraduate degree at Stanford University in Community Health and Cross-Cultural Medicine, followed by a Masters in Public Health at UC Berkeley. She applied to medical school knowing she wanted to be a family doctor who practiced at a Federally Qualified Health Center (FQHC). Her goal is to bridge public health and medicine through community medicine. She received her medical degree from the University of Arizona, Tucson, where she also met her husband, a Reno native. She came to Reno to complete her family medicine residency at the University of Nevada, Reno. She is very excited to be able to pursue her passion for health equity at Community Health Alliance.
Personal Interests
Dr. Fernandez spends all of her free time with her twin daughters and son, hanging out with her family, hiking with her husband, dancing, running, and doing yoga.
Locations
No matter what your healthcare needs may be, our kind, compassionate staff is standing by with a wide range of quality care options.
Testimonios
I would follow Dr. Fernandez to the moon.
Thank you, Dr. Fernandez! You and the entire team are fantastic!!!