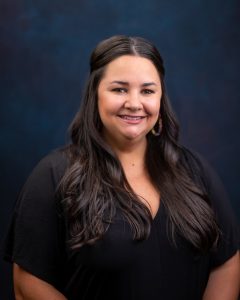 Katherine O'Gorman, DDS
Dentist
Dentistry | Language(s) Spoken: English, Spanish
Background
Dental Education:
– University of Michigan
– University of California, San Francisco
Undergraduate Education:
– University of Nevada, Reno
Biography
Dr. Katie O'Gorman was born and raised in northwest Reno, and she loves everything about the high sierra. She graduated from Bishop Manogue Catholic High School and continued her education at the University of Nevada, Reno, receiving her BS in Biology in 2009. Dr. O'Gorman went on to receive her DDS at the University of Michigan, School of Dentistry in 2013, and she then completed a General Practice Residency at the University of California, San Francisco in 2014. Dr. O'Gorman has a deep, unwavering love for the Reno/ Sparks community and is proud to call Reno home for nearly her whole life. She has practiced in both community health and private practice and is thrilled to be using her knowledge and skills to help a community that is so near and dear to her heart.
To provide the best quality care to her patients, Dr. O'Gorman's mission as a dental provider is to improve her patients' lives by helping them to understand and achieve optimal oral health. She strives daily to practice empathy, kindness, patience, and clinical excellence. Her forte is her ability to connect with her patients and build lasting and meaningful relationships, treating every patient as if they are her family.
Personal Interests
Reno is home for Dr. O'Gorman, and she enjoys life with her husband, Luke, and their two adorable dogs: a Chocolate Labrador named Sanka and a Charcoal Labrador named Greta. She enjoys traveling, wine tasting, hiking, snowshoeing, adventures with her husband and their dogs, singing, live music, and spending time with friends and family. Dr. O'Gorman is also very close with her mom and her three brothers and has a huge extended family that all reside in the Reno area.
Locations
No matter what your healthcare needs may be, our kind, compassionate staff is standing by with a wide range of quality care options.