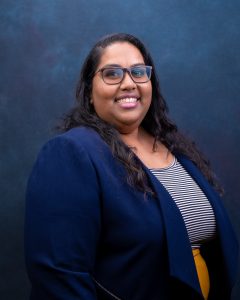 Sarah Lopez, MD
Physician
Family Medicine | Language(s) Spoken: English
Background
Medical School:
– SUNY Upstate Medical University
Graduate Medical Education:
– UCONN Family Medicine Residency
Undergraduate Education:
– Baylor University
Biography
Dr. Lopez was born and raised in Trinidad and Tobago in the Caribbean. She received a Bachelor of Science degree in Biochemistry at Baylor University in Waco, TX, and then moved to the northeast for her medical training at Upstate Medical University in Syracuse, NY, and subsequently UConn Family Medicine Residency in Hartford, CT where she was chosen as Chief Resident during her final year. While she has always had an interest in medicine, it was during medical school that she developed a passion for primary care because of the ability to form long-term relationships with people from all walks of life and the chance to help them achieve their healthcare goals.
She has many areas of interest in medicine including LGBTQ medicine, mental health and women's health. During residency, she helped develop LGBTQ curricula and taught her colleagues and medical students about the healthcare needs of these patients. She also worked to start a gender clinic to improve access to care for transgender patients. Due to her work with this underserved population as well as her passion for health equity, she was recognized with the Social Justice in Medicine award from her residency program.
Dr. Lopez continues to practice broadly and is excited to be a part of the Community Health Alliance family.
Personal Interests
Dr. Lopez loves traveling and experiencing new cultures. She is a transplant to the west coast and is looking forward to exploring all that the Reno-Tahoe area has to offer. She is an avid reader and creative writer. She also enjoys cooking for friends and family. When not at work, you can find her playing board games, watching movies with her partner, and spending time with her pets.
Locations
No matter what your healthcare needs may be, our kind, compassionate staff is standing by with a wide range of quality care options.
Testimonial
I always feel cared about at CHA and with Dr. Lopez. CHA listens.
Dr. Lopez is hands down the best primary care provider I have ever seen. She is competent, kind, and listens to my concerns.
Dr. Sarah Lopez and the staff there are wonderful. I can't express how much better I feel after being taken off unnecessary meds my previous doc had me on. All aspects of my health have been examined & I definitely have my faith in the medical community restored.
This was my first time seeing Dr. Sarah Lopez. I think she's fantastic. She listened to me and understood me. I hope she can be my doctor forever.
I really like Dr. Lopez. She is thorough. I know she has my best interest at heart.