Liesel Tavey, RDH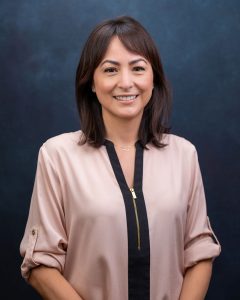 Specialty
Family Dentistry
Undergraduate Education
University of Nevada, Reno | Reno, NV
New York University | New York, NY
Biography
Liesel Tavey was born and raised in Reno, NV. She attended Bishop Manogue High School and graduated with a Bachelor of Science in Nutritional Science degree from the University of Nevada, Reno in 2004.  She then received her Associate of Applied Science in Dental Hygiene from New York University in 2008. Liesel was a clinical instructor at New York University where she was also involved with outreach trips to Grenada.
She has volunteered her time and skills with the non-profit organization Global Dental Relief, where she has traveled to Guatemala and Vietnam. An article detailing her experiences in Vietnam was featured in RDH Magazine ("Finding a Purpose in Vietnam" 2012). She has worked for Community Health Alliance since 2015.
Personal Interests
In her spare time, Liesel enjoys traveling, spending time with her husband and daughter, and exploring Reno and Lake Tahoe.