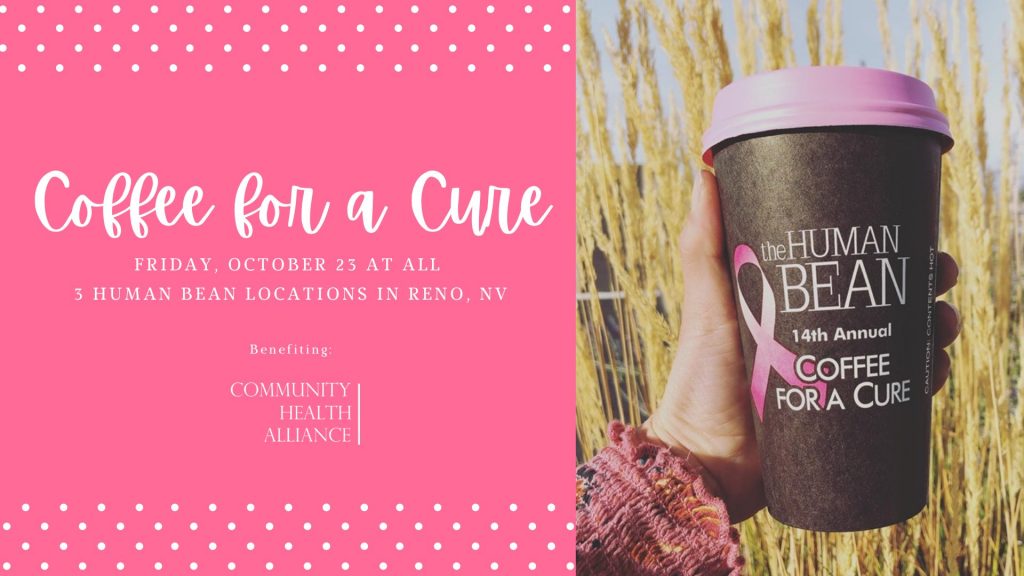 The Human Bean Hosts Coffee for a Cure on Friday, Oct. 23, 2020
The Human Bean will donate 100 percent of sales plus tips to local breast cancer funds
The Human Bean is hosting its annual fundraiser "Coffee for a Cure" on Friday, Oct. 23 at their three drive-thru locations in Reno from 5 a.m. – 9 p.m. The Human Bean is generously donating all proceeds plus tips to Community Health Alliance so that we can provide breast cancer screenings as well as navigation services to make sure women follow through with recommended tests and have the support they need to understand test results.
"Breast cancer is the most common cancer and second-leading cause of cancer death among women in the United States," said Oliva Avila, Community Health Alliance's care management manager. "Through donations and grants, we were able to help over 50 percent of our uninsured, eligible women complete their mammogram screenings in 2019. Community Health Alliance is dedicated to providing this important screening measure to our patients who need it most."
Since 2015, the partnership between The Human Bean and Community Health Alliance has raised $23,993.87.
"This event means so much to The Human Bean team and our community," said Tasha Thomas, regional manager for The Human Bean. "It truly brings a tremendous amount of hope and joy to Reno, and affects so many in such a positive way. We look forward to 'Coffee for a Cure' every year!"
The Human Bean Drive-Thru Locations: