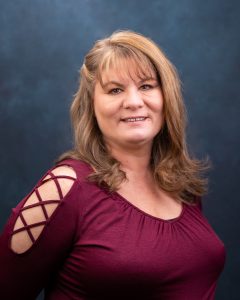 Lynette Rossback, APRN
Nurse Practitioner
Family Medicine | Language(s) Spoken: English
Background
Graduate Medical Education:
– Master of Science in Nursing
Undergraduate Education:
– Bachelor of Science in Nursing
Biography
Lynette has been in nursing since she was 18 years old. She started as a Certified Nursing Assistant then became a Licensed Vocational Nurse, Registered Nurse, and Bachelor of Science in Nursing. She is currently a Nurse Practitioner with a Master of Science in Nursing. Lynette's most recent degree was obtained in 2015. She has spent most of her career as a Registered Nurse in emergency services but has also worked in many other areas.
Personal Interests
Lynette loves spending time with her family while camping, reading, and watching movies.

Locations
No matter what your healthcare needs may be, our kind, compassionate staff is standing by with a wide range of quality care options.
Testimonial
Lynette is easy to talk to and she is very understanding. She is professional and I am comfortable talking to her about my problems.
Lynette was very helpful in all areas. Very respectable. Very kind and understanding.