Andrew Miller, PharmD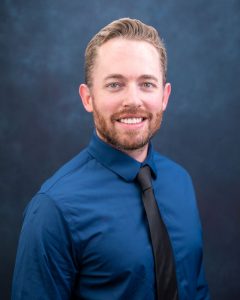 Specialty
Clinical Pharmacy
---
About Andrew Miller
Language(s) Spoken: English
Board Certifications:
PharmD: Doctor of Pharmacy
Pharmacy School: University of Saint Joseph | Hartford, CT
Undergraduate Education: University of Nevada, Reno | Reno, Nevada
Biography: Andrew was born and raised right here in Reno. He studied and graduated with a bachelor's degree in biology at the University of Nevada, Reno. After graduation, he worked at a pre-clinical pharmaceutical testing facility. He then decided to go to pharmacy school at the University of Saint Joseph in Connecticut. He moved back to Reno in 2016. He has a beautiful wife, Sara, who is also a pharmacist. They have a dog named Archie and a tabby cat named Mosby.
Personal Interests:  He enjoys boating and spending time at the family cabin in Lake Tahoe during the summer and skiing and snowboarding in the winter.
---
Location
Wells Ave. Health Center
1055 South Wells Avenue
Reno, NV 89502