"Tu cita de salud" with Telemundo Reno and Community Health Alliance: Healthy Lunches and Snacks
Learn About Back-to-School Healthy Lunches and Snacks.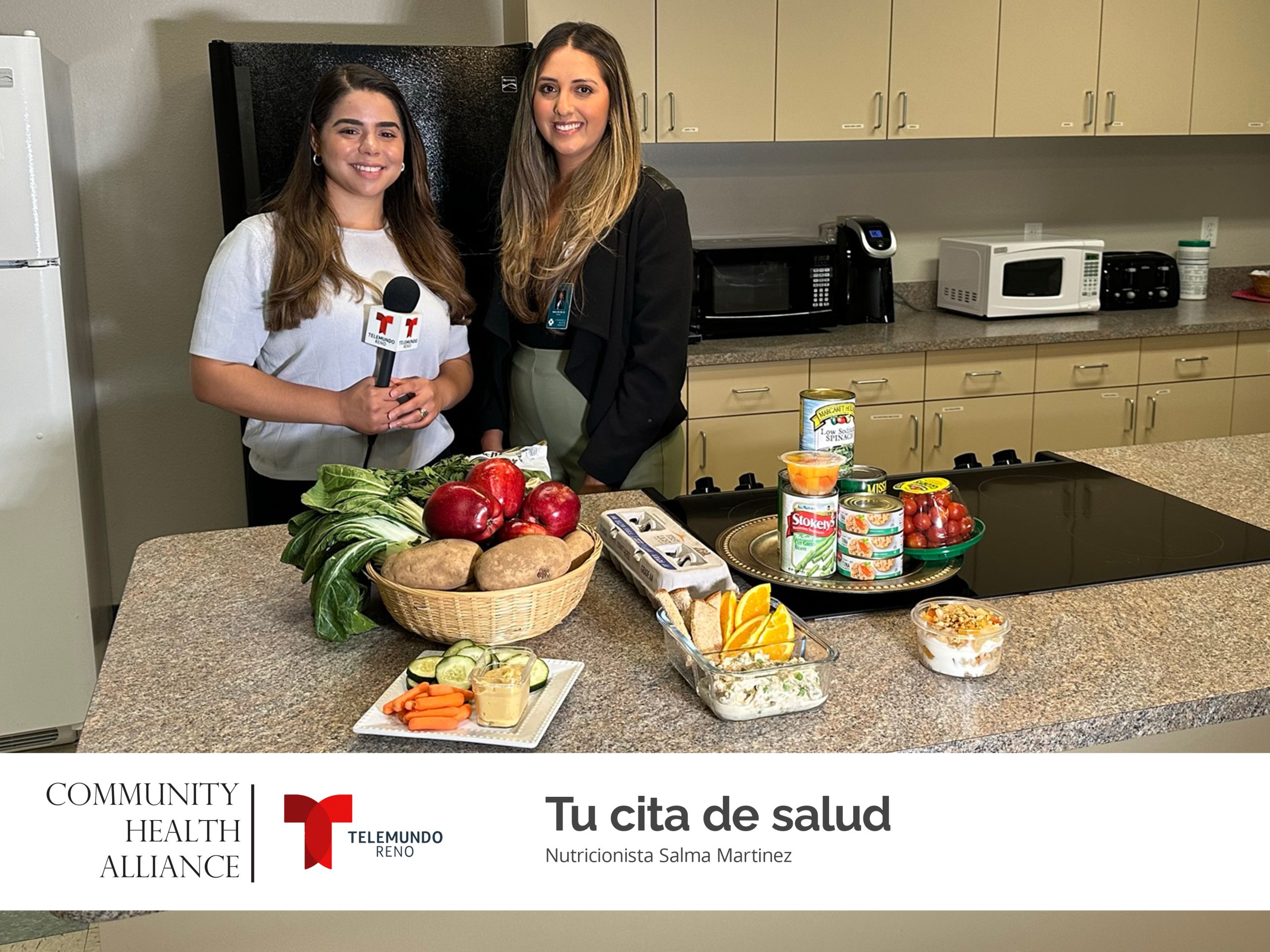 Freixys Casado: Hi, Telemundo Reno friends! This is Freixys, and with me today is Salma Martinez, a nutritionist from Community Health Alliance. How are you, Salma?
Salma Martinez: Hi, I am doing well. Thank you for being here with me, Freixys.
Freixys Casado: With school starting soon, it is important that our children have a healthy and balanced diet to help them be focused in school. Could you give us an example of a balanced lunch that parents could pack for our children?
Salma Martinez: Of course! The lunch I made today is a chicken salad with canned vegetables. The salad is combined with pieces of wheat bread and chopped fruit. This incorporates components from all food groups.
Freixys Casado: And how about a snack you can give your kids?
Salma Martinez: Today, I prepared two snacks. One is pure chickpea combined with chopped carrot pieces and cucumber. The other is canned fruit with yogurt. Depending on your child's school, you could add nuts or granola. These two snacks combine healthy fats, fiber, and protein to ensure you are satisfied between meals.

Freixys Casado: I noticed that you used a variety of canned foods in the meals you brought today. Does it make a difference whether we use fresh or frozen products?
Salma Martinez: There are some differences in nutrient content, but what is different is not necessarily less healthy. What I want to emphasize today is that it is more important to encourage our children to eat more fruits and vegetables to support their growth and development. If possible, when choosing canned options, opt for those with less sugar and salt.
Freixys Casado: Excellent, it's good for our families to know that canning doesn't necessarily indicate less healthy. Can you tell us where you could get these meals?
Salma Martinez: Of course, most of the meals can be picked up at a supermarket, but the food that was used today was obtained at our prescription food pantry here at Community Health Alliance. Any Community Health Alliance patient can pick up free food once a week from any of our three health centers located in Sparks, Wells Avenue, and Sun Valley.
Freixys Casado: Is there anything else you would like to add?
Salma Martinez: For help with some meal ideas, you can follow us on social media. Our WIC team publishes fruit and vegetable recipes of the month. Also, if you have children five years old and younger and need nutritional support, you can apply for the WIC program at Community Health Alliance.
Freixys Casado: Thank you, Salma for showing us meals that parents can prepare for school!
Salma Martinez: Thank you, Freixys!
To schedule an appointment at Community Health Alliance, please call (775) 329-6300.
Sign Up for Our Newsletter
By submitting this form, you are consenting to receive marketing emails from: Community Health Alliance, 680 S. Rock Blvd, Reno, NV, 89502, https://www.chanevada.org. You can revoke your consent to receive emails at any time by using the SafeUnsubscribe link found at the bottom of every email.